Home/order
If you found this page via Google or another search engine, CLICK HERE to enter our full-featured site

Van Morrison original vinyl records
Listed by release date. Please e-mail for more details. Grading order is cover/vinyl. Grading standards & terms

COVER SIMILAR TO ABOVE
Van Morrison
Blowin' Your Mind / 1967 / Bang BLPS-218
VG+ / VG++ / $40.00

Original stereo release, pressed on heavy vinyl, with uncensored version of "Brown Eyed Girl." His solo debut album, a great set with He Ain't Give You None, T.B. Sheets, Spanish Rose, Goodbye Baby (Baby Goodbye), Ro Ro Rosey, Who Drove The Sports Car, Midnight Special. Slight ringwear on cover and soiling on back cover
Van Morrison
Van Morrison - His Band & Street Choir / 1970 / Warner Bros WS-1884
VG+ / VG+ / $20.00

Original release ... with "Domino," "Blue Money"... includes insert with lyrics
Van Morrison
Van Morrison - His Band & Street Choir / 1979 / Warner Bros WS-1884
VG++ / NM / $24.00 BUY AT GREG'S GROOVES ON AMAZON MARKETPLACE
Reissue, off-white label ... with "Domino," "Blue Money"... gatefold cover with credits, insert with lyrics
Van Morrison
Astral Weeks / 1970 / Warner Bros WS 1768
VG+ / VG+ / $20.00

Second issue, green label. "Madame George," "Ballerina," "Cyprus Avenue"...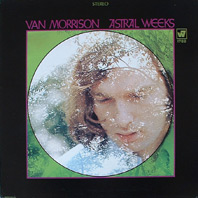 Van Morrison
Astral Weeks / 1979 / Warner Bros WS 1768
NM / NM / $30.00

Reissue, off-white label in sweet condition. Astral Weeks, Beside You, Sweet Thing, Cyprus Avenue, The Way Young Lovers Do, Madame George, Ballerina, Slim Slow Rider

COVER SIMILAR TO ABOVE
Van Morrison
Moondance / 1973 / Warner Bros WS-1835
VG+ / VG+ / $25.00

Third issue, Burbank "palm trees" label with gatefold cover in strong VG+ condition. An enduring classic, with "Stoned Me," "Crazy Love," "Into The Mystic," Come Running," "Caravan," title track ...
Van Morrison
It's Too Late To Stop Now (2 LPs) / 1974 / Warner Bros 2BS 2760
VG / VG+, VG+ / $28.00 BUY AT GREG'S GROOVES ON AMAZON MARKETPLACE
Original release with trifold cover. Live in concert in Los Angeles and London, summer 1973
Van Morrison
Tupelo Honey / 1971 / Warner Bros WS 1950
VG / VG+ / $12.50
Original release, green label. Light stains on cover. Wild Night (Straight To Your Heart) Like A Cannonball, Old Old Woodstock, Starting A New Life, You're My Woman, Tupelo Honey, I Wanna Roo You, When That Evening Sun Goes Down, Moonshine Whiskey. Gatefold cover
Van Morrison
Saint Dominic's Preview / 1972 / Warner Bros WB 46172
VG++ / NM / $25.00

Original German release on quality vinyl. Includes English-language insert with credits. Track list: Jackie Wilson Said, Gypsy, I Will Be There, Listen To The Lion, Saint Dominic's Preview, Redwood Tree, Almost Independence Day.
Van Morrison
Hard Nose The Highway / 1973 / Warner Bros K46242
VG+ / VG++ / $35.00

Original U.K. release, Burbank "palm trees" label. Gatefold cover with lyrics & credits. "Made in England" sticker on back cover. Snow In San Anselmo, Warm Love, Hard Nose The Highway, Wild Children, The Great Deception, Green, Autumn Song, Purple Heather. Cover art by Rob Springett
Van Morrison
Hard Nose The Highway / 1973 / Warner Bros BS 2712
VG++ / VG++ / $35.00

Original release, "palm trees" label. Snow In San Anselmo, Warm Love, Hard Nose The Highway, Wild Children, The Great Deception, Green, Autumn Song, Purple Heather. Cover art by Rob Springett
Van Morrison
A Period Of Transition / 1977 / Warner Bros BS 2987
VG+ / VG+ / $11.00
Original release
Van Morrison
Into The Music / 1979 / Warner Bros HS-3390
VG++ / VG++ / $14.00

Van Morrison
Summertime In England / Haunts Of Ancient Peace (12" single) / 1980 / Warner Bros PRO-A-911
VG++ / NM / $12.00
White label promo in generic Warner Bros cover
Van Morrison
Beautiful Vision / 1982 / Warner Bros BSK 3652
VG++ / VG++ / $12.50
Van Morrison
A Sense Of Wonder / 1984 / Mercury 422-822-895-1
VG++ / VG+ / $11.00
Van Morrison
No Guru, No Method, No Teacher / 1986 / Mercury 422-830-077-1
VG+ / VG+ / $14.00
Van Morrison
Avalon Sunset / 1989 / Mercury 422-839-462-1
VG+ / VG+ / $12.00