Home/order
If you found this page via Google or another search engine, CLICK HERE to enter our full-featured site

Willie Nelson - original vinyl records
Listed by release date. Please e-mail for more details.. Grading order is cover/vinyl. Grading standards & terms
Willie Nelson
Columbus Stockade Blues / 1970 / RCA Camden CAS-2444
VG+ / VG+ / $10.00
Reissue of LSP-3528
Willie Nelson
Yesterday's Wine / 1975 / RCA Victor ANL1-1102
VG++ / NM / $14.00
Reissue
Willie Nelson
The Sound In Your Mind / 1976 / Columbia KC 34092
VG++ / VG++ / $11.00

Promo stamp on back cover. That Lucky Old Sun, If You've Got The Money I've Got The Time, A Penny For Your Thoughts, The Healing Hands Of Time, Thanks Again, I'd Have To Be Crazy, Amazing Grace, The Sound In Your Mind, Medley: Funny How Time Slips Away, Crazy, Night Life
Willie Nelson
Red Headed Stranger / 1975 / Columbia KC 33482
VG++ / NM / $12.00

Time Of The Preacher, I Couldn't Believe It Was True, Time Of The Preacher Theme, Medley: Blue Rock Montana/Red Headed Stranger, Blue Eyes Crying In The Rain, Red Headed Stranger, Time Of The Preacher Theme (2), Just As I Am, Denver, O'er The Waves, Down Yonder, Can I Sleep In Your Arms, Remember Me, Hands On The Wheel, Bandera. Custom inner sleeve with lyrics
Willie Nelson, David Allan Coe, Jerry Lee Lewis, Carl Perkins
The Longhorn Jamboree Presents Willie Nelson & His Friends / 1976 / Plantation PLP-24
VG++ / VG++ / $14.00
Side 1 features Gold Star studio (Houston) tracks from 1959-1962: What A Way To Live, Misery Mansion, Rainy Day Blues, Night Life, Man With The Blues, The Storm Had Just Begun. Side 2 features Nashville tracks from David Allan Coe (Mississippi Woman, West Virginia Man), Jerry Lee Lewis (What'd I Say, Save The Last Dance For Me), Carl Perkins (Honey Don't, Blue Suede Shoes)
Willie Nelson
The Troublemaker / 1976 / Columbia / Lone Star KC 34112
VG+ / VG++ / $11.00

Uncloudy Day, When The Roll Is Called Up Yonder, Whispering Hope, There Is A Fountain, Will The Circle Be Unbroken, The Troublemaker, In The Garden, Where The Soul Never Dies, Sweet Bye & Bye, Shall We Gather, Precious Memories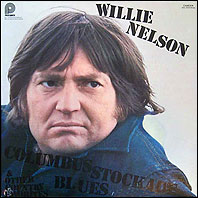 Willie Nelson
Columbus Stockade Blues / 1976 / Pickwick ACL-7018
NM / NM / $12.50
Willie Nelson
To Lefty From Willie / 1977 / Columbia KC 34695
VG++ / NM / $12.00
White Label Promo with timing sticker on cover and factory sticker on cover promoting "Long Awaited Tribute To His Friend Lefty Frizzell
Willie Nelson
Stardust / 1978 / Columbia JC 35305
VG++ / VG++ / $11.00

Willie Nelson
Willie Nelson Sings Kristofferson / 1979 / Columbia JC 36188
VG+ / VG++ / $10.00
Original release
Willie Nelson
Willie Nelson Sings Kristofferson / 1979 / Columbia JC 36188
NM is / VG++ / $12.00
Original release
Willie Nelson
Sweet Memories / 1979 / RCA Victor AHL1-3243
NM / NM / $11.00
Sweet Memories, Everybody's Talkin', Wonderful Future, December Day, Help Me Make It Through The Night, Both Sides Now, Wake Me When It's Over, Little Things, Buddy, Will You Remember
Willie Nelson
Pretty Paper / 1979 / Columbia JC-36189
NM / NM / $11.00

Willie's Christmas favorites
Willie Nelson & Family
Honeysuckle Rose (soundtrack) (2 LPs) / 1980 / Columbia SZ 36752
NM / VG++, VG++ / $30.00 SALE $15.00 BUY AT GREG'S GROOVES ON AMAZON MARKETPLACE
Original release. Featuring Willie with Dyan Cannon, Amy Irving, Johnny Gimble, Jody Payne, Hank Cochran, Emmylou Harris, Jeannie Seely, Kenneth Threadgill. Gatefold cover with many scenes from the movie.
Willie Nelson
Before His Time / 1980 / RCA Victor AYL1-3671
NM / NM / $10.00
"Best Buy Series" reissue. One In A Row, I'd Trade All My Tomorrows (For Just One Yesterday), She's Not For You, You Ought To Hear Me Cry, To Make A Long Story Short (She's Gone), I'm A Memory, Stay Away From Lonely Places, It Should Be Easier Now, Little Things, How Long Have You Been There
Willie Nelson
Willie Nelson's Greatest Hits (And Some That Will Be) (2 LPs) / 1981 / Columbia KC2 37542
NM / NM, NM / $18.00

Railroad Lady, Blue Eyes Crying In The Rain, Whiskey River, Georgia On My Mind, If You've Got The Money I've Got The time, Look What Thoughts Will Do, Uncloudy Day, Mammas Don't Let Your Babies Grow Up To Be Cowboys, My Heroes Have Always Been Cowboys, Help Me Make It Through The Night, Angels Flying Too Close To The Ground, I'd Have To Be Crazy, Faded Love, On The Road Again, Heartbreak Hotel, If You Could Touch Her At All, Till I Gain Control Again, Heartaches Of A Fool, Good Hearted Woman, Stay A Little Longer
Willie Nelson (more Sealed albums)
The Best Of Willie / 1982 / RCA Victor AYL1-5143
Sealed / $25.00

Reissue with "Best Buy Series" sticker on shrinkwrap. Everybody's Talkin', Mountain Dew, Sweet Memories, Minstrel Man, Good Times, Little Things, Bloody Mary Morning, Night Life, Me And Paul, Yesterday's Wine
Willie Nelson
Always On My Mind / 1982 / Columbia FC 37951
VG++ / VG+ / $10.00
With Waylon Jennings on "A Whiter Shade Of Pale." Custom inner sleeve with lyrics to "Always On My Mind"
Willie Nelson
Without A Song / 1983 / Columbia FC 39110
NM is / NM / $9.00
Produced & arranged by Booker T. Jones. Without A Song, Once In A While, Autumn Leaves, I Can't Begin To Tell You, Harbor Lights, Golden Earrings, You'll Never Know, To Each His Own, As Time Goes By (with Julio Iglesias), A Dreamer's Holiday. Custom inner sleeve with credits & pix
Willie Nelson
City Of New Orleans / 1984 / Columbia FC 30145
VG++ / VG++ / $12.00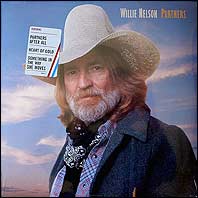 Willie Nelson
Partners / 1986 / Columbia FC 39894
Sealed / $15.00
Factory sticker on shrink promotes Partners After All, Heart Of Gold, Something In The Way She Moves. Also includes When I Dream, Hello Love Goodbye, Kathleen, So Much Like My Dad, My Own Peculiar Way, Remember Me, Home Away From Home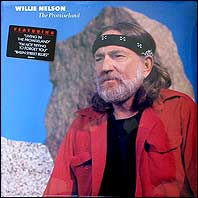 Willie Nelson (more Sealed albums)
The Promiseland / 1986 / Columbia FC 40327
Sealed / $35.00

Factory sticker on shrink promotes Living In The Promiseland, I'm Not Trying To Forget You, Basin Street Blues. Also includes Here In My Heart, I've Got The Craziest Feeling, No Place But Texas, You're Only In My Arms (To Cry On My Shoulder), Pass It On, Do You Ever Think Of Me, Old Fashioned Love, Bach Minuet In G

COVER SIMILAR TO ABOVE
Willie Nelson
A Horse Called Music / 1989 / Columbia FC 45046
NM / NM / $25.00
Willie Nelson & Leon Russell (more Leon Russell)
One For The Road (2 LPs) / 1979 / Columbia KC2 36064
VG++ / VG+, VG+ / $14.00
Willie Nelson & Waylon Jennings (more Waylon)
Waylon And Willie - WWII / 1982 / RCA Victor AHL1-4455
VG++ / NM / $12.00

Original release, embossed cover. Mr. Shuck And Jive, Roman Candles, (Sittin' On) The Dock Of The Bay, The Year That Clayton Delaney Died, Lady In The Harbor, May I Borrow Some Sugar From You, Last Cowboy Song, Heroes, The Teddy Bear Song, Write Your Own Songs, The Old Mother's Locket Trick
Willie Nelson & Waylon Jennings (more Waylon)
Take It To The Limit / 1983 / Columbia FC 38562
NM / NM / $12.50

No Love At All, Why Do I Have To Choose, Why Baby Why, We Had It All, Take It To The Limit, Homeward Bound, Blackjack County Chains, Till I Gain Control Again, Old Friends, Would You Lay With Me (In A Field Of Stone)
Willie Nelson & Kris Kristofferson
Music From SongWriter / 1984 / Columbia FC 39531
NM is / NM / $30.00

Nelson and Kristofferson sing duet on How Do You Feel About Foolin' Around and Eye Of The Storm; Nelson sings Songwriter, Who'll Buy My Memories, Write Your Own Songs, Nobody Said It Was Going To Be Easy, Good Times; Kristofferson sings Crossing The Border, Down To Her Socks, Under The Gun, The Final Attraction
Waylon Jennings / Willie Nelson / Johnny Cash / Kris Kristofferson
Highwayman / 1985 / Columbia FC 40056
VG++ / NM / $15.00

Custom inner sleeve with a nice portrait of the artists